A few months ago, James and Craig from M+H Private left their accounting careers to start their own Brisbane based firm.
Soon after the decision was made, James asked if I could help with branding and web design. I was probably jumping up and down on the phone as I always get very excited when a new project comes my way. I love the design challenge and creating websites from scratch.
James is very focused, efficient and knows what he wants.
So when I asked him what he envisions for his new brand, he said he didn't want any plants to make his website homely. Nor did he want to use a lot of colour, but rather dark shades. Based on the websites he shared with me, he liked big, screen size background images, for team members as well as regular pages. The few images he sent through were quirky and funny - true to the businesses motto: Not your average accountants...
So I started with this inspiration board for M+H Private.
James liked it and I could now proceed to logo and website design.
The logo
James had already played with online logo creation tools, but did not quite get the result he was happy with. He however could tell me what he thought could become his new logo: He was after a circle that surrounded his business name, black being the predominant colour.
At the start we left out the Private, but decided in the end it had to be part to complete the logo design. Out of the options, James chose my favourite.
After a few drafts showing m+h in bold serif font with a circle around it, James said: "That is pretty much it, Sibs."
With the logo completed, I could proceed to the web design.
The website
Based on initial discussions and the sample websites James shared with me, the website would be designed with light font on a dark background.
I had never worked with a dark background before. And to be honest, I found it quite tricky. I looked at all the Squarespace templates with a dark background, installed them and tried to work with them. Many of them are great for creatives or musicians with big image sections and headlines, but didn't work so much for this purpose.
After lots of playing around, I chose Hyde as the base for the M+H website. It is a very versatile template and in the end provided all the features we were after: the big, parallax scrolling background images being one of the main features.
The next challenge were the background images.
I started with Shutterstock and Pexels looking for images that we could use to support the content and the company's image. I always try to find free stock photos as there is a large range available by very talented photographers.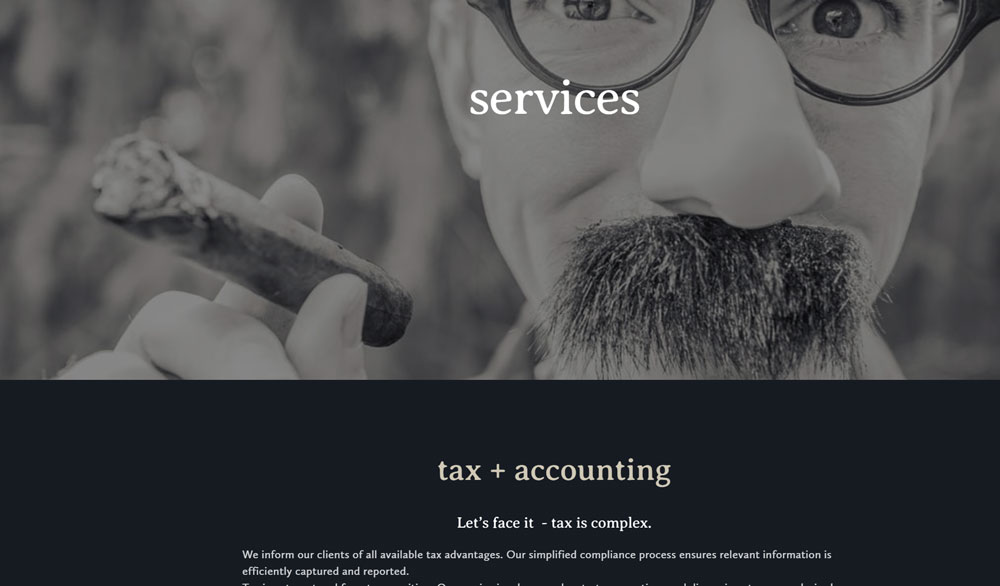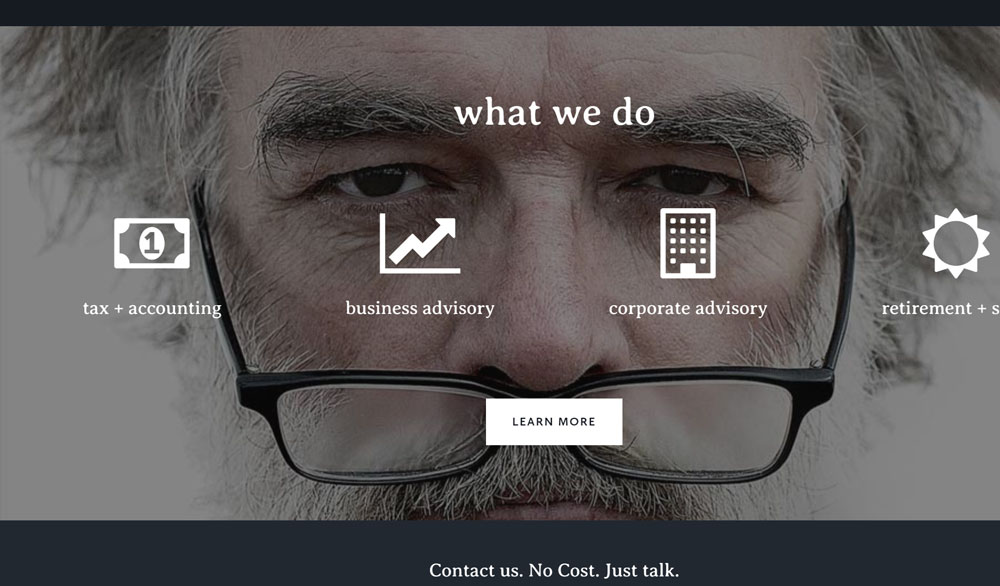 With James keeping the serious accounting content very light and funny, the images matched this new accounting firm with a very personal, jovial and at the same time professional approach..
James was very prompt with the content and his comments as to what was working and what he wanted changed. And after a lot of detailed design work, we completed the website within 1.5 weeks. Then we just waited until the business processes were in place for it to be launched.
The business card
While working on the website, we were also creating business cards.
I love designing business cards. It might be the challenge of putting a company's image onto a small card. I started laying out some options for James to choose from.
We decided to on the landscape format with the logo in the front and all the information on the back.
The last thing to decide was if the logo will be printed on white or black background. We found that the black goes with the website design and makes the logo design more prominent.
As always, I printed them with Moo and they again delivered a perfect product very quickly.
In addition to the business cards, James also asked me to design a letterhead for his official communication with clients and government agencies.
After a going back and forth for a bit, this was the end result. I like keeping designs simple, especially when they are meant to be printed.
The brand style guide
At the end of the project, I created the brand style guide summarising styles, fonts, colours and images in addition to a set of files including the logo in various sizes, the business card design and the letterhead in .doc format.
I have known James for quite a while and it so was no surprise that I really enjoyed working with him. He was always very prompt to answer and make decisions when I asked him design questions. It was a pleasure creating the band and web design for M+H Private.
What do you think about the new brand and website design? Leave a comment below!